When I used to visit Montreal a few years back, one of the places I always ended up going out with friends to was Buonanotte. When I heard a while ago that Buonanotte had opened a Toronto restaurant, I was intrigued, but never made a big effort to go there, even though it is just a few blocks from my home. In my mind, there was no way it would be anything like the Montreal counterpart so I didn't want to spoil my Montreal go-to, in case I made it back there.
That all changed just a week ago when I was invited to try out the new holiday menu at Buonanotte Toronto. After being teased with mascarpone pizza, gnocchi and short rib, it was really hard to turn down.
We started off by sampling several cocktails on their cocktail list. Throughout the night I got to try the following:
FIORITURA (2oz) $16 – Tanquerey No. 10 Gin, St. Germain (Elderflower) Fresh Lime, Mint, Cucumber and Soda
BUONA NEGRONI (2.25oz) $15 – Bombay Sapphire Gin, Antica Formula and Campari
APEROL SPRITZ (3oz) $14 – Aperol, Prosecco and Soda
AVANTI (3oz) $16 – Crown Royal, Grand Marnier, Plum Liquor, Red Wine, Figs and Soda
CAMPO DI FRAGOLE (3oz) $15 – Bacardi Superior, Strawberry Purée, Sparkling Wine and Fresh Basil
The negroni, fioritura and aperol spritz were all amazing! The avanti was kinda weird (not what you'd expect based on the ingredients) and very bitter, but I actually kinda liked it. The campo di fragole was a bit too sweet for me.
The meal was intense, at near 4 hours long, but was timed perfectly so we weren't overly stuffed at any given point. Here is what we enjoyed:
Polipo Grigliato – Grilled Octopus served on a bed of greens accompanied by Fried Chick Peas and a Black Olive Pesto.
Polpettine – A combination of pork and veal meatballs served in a tomato sauce with parmigiano.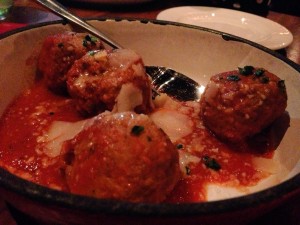 Proscuitto D'Oca Affumicato – Lightly smoked Duck Proscuitto, Horseradish Cream and Pickled Green Apple.


Crudo E Mascarpone Pizza – Crushed San Marzano Tomatoes, Fior Di Latte, Mascarpone Cheese, Basil, 24 Month Aged Prosciutto Di Parma and Extra Virgin Olive Oil
P. G. F. Pizza – Sweet Gorgonzola, Roasted Leek, Mushroom, Basil and Extra Virgin Olive Oil
Gnocchi Di Spinaci – Homemade Spinach Gnocchi with Gorgonzola and Parmesan cream sauce finished with Black Truffle
Risotto del Giorno – Radicchio, NDuja, and Tallegio Formaggi
Costine Di Manzo – 72 hour Sous Vide Beef Short Rib with Truffled Polenta and Red Onion Jam.
Rustin Negaa alla Milanese – Veal T-bone with Mashed Potatoes, Pancetta, Sage and White Wine Sauce.
Branzino Al Limone e Capperi – Seared Branzino with Roasted Sunchoke, Sauteed Kale, Garlic Chips and Lemon Caper Sauce.
As you can see, it was no small meal and it was really hard to remember details of each of the specific dishes, but what I can tell you is the mascarpone pizza is the best pizza I've ever had in Toronto. Cooked in just 45 seconds in an 1100 degree oven, the mascarpone comes out like a cream with the lightly toasted crust on the dough. This pizza was so good that it compares to some of the pizza I had while traveling around Italy a few years ago, which included a stop at one of the best spots in Naples. The meatballs were also one of my top 3 dishes. Super juicy with a delicious tomato sauce and definitely a must try! Also recommended are the octopus, which was cooked perfectly (not too tough), and the short rib. The lease memorable dishes would have to be the P.G.F. Pizza (probably because it followed the mascarpone pizza which was incredible and I wasn't a fan of the gorgonzola), the Gnocchi (also because I just don't like gorgonzola that much) and the risotto (which I found a little under cooked and heavy on the salt). The other dishes not mentioned though were great but not as memorable as the ones listed above.
DESSERT
Torta All Olio Di Olive Oil – Olive oil cake with compressed strawberries and vanilla cream
Cannoli – Sicilian cannoli with fresh ricotta and chocolate drizzle
Bomboloni Al Cioccolato – Deep fried dough with chocolate sauce
Panna Cotta ai Frutti di Bosco – Mixed wild berry panna cotta with apple cider syrup
I am not really much of a dessert person to begin with, so this part of the meal didn't do much for me. The presentation was excellent and the cannoli was awesome! I also enjoyed the dough balls and the cake but I didn't care much for the panna cotta.
Overall I would highly recommend a visit to Buonanotte, at least for the meatballs and mascarpone pizza. Both of these dishes were so delicious and I will definitely be back to try these again. You can view the full Buonanotte Toronto menu online and all information about the restaurant can be found on their website. You can also find the restaurant on Twitter and Instagram posting as @buonanotteto. All pictures from this event can be found by searching #buonanotteholiday on Twitter.
* PLEASE NOTE: All the food and drinks enjoyed in this review were complimentary and provided by the restaurant but my opinions are based on if I actually was paying for the items described.